Pin It
Hello Friends! This week's Harvest of Friends Weekend Blog Hop is live. Thank you to everyone who joined in on the fun, last week. If you requested a follow-back from me and I missed you, please let me know. It's been a crazy week and
I haven't been online as much I wanted to be. I didn't want to miss anyone. :-)
Every week, I will be randomly featuring a blog from the previous week's blog hop participants.
THIS WEEK'S FEATURED BLOG IS:
Ugochi at
Teshuva
writes a wonderful faith-based blog where she loves to share her own experiences and stories to inspire her readers. Her writing is not only beautiful, but it is also very motivating for the soul. I recommend reading her posts,
Leveling Up
and
Proper Patricia.
If you are one of the featured blogs at the Harvest of Friends Weekend Blog Hop, you can grab the "featured" button, below, to share on your website as you please.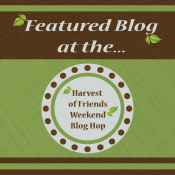 JUST A FEW SIMPLE RULES FOR THE BLOG HOP:
Link up your (family-friendly) blog, below, and don't forget to check out some of the other awesome blogs that are linking up. NOTE: If you follow via Facebook, please remember to try and do so from your personal page. Facebook doesn't count the likes if you follow from your business/blog page. For more information, please read this post.
If you'd like, you may grab the blog hop button, below, and share it on your blog. This lets others know about the hop. The more people who join in on the party, the merrier!