Pin It
When it comes to doing laundry, I love trying different products. Even so, I'm still a loyal Purex user, since it has always done a great job at getting my family's clothes clean at a price you can't beat!
You can imagine my excitement when I received the opportunity to try out the new Purex with Crystals brand! If you are not already familiar with Purex Crystals, basically it is a fragrance enhancer that you throw into your wash along with your detergent. In turn, it leaves an amazing aroma throughout your clothes that really lasts! The new Purex with Crystals has the same exact effect, but instead of having to take that extra step of adding the Crystals to your wash, the scent is actually infused right into the detergent.


Not only does this new member of the
Purex
family enhance the freshness of your laundry with the Crystal action, but it also includes a fabric softener. Normally adding the detergent, the Crystals, and finally the fabric softener would take three steps. When using the new Purex with Crystals detergent you basically combine all three steps into one!
As with every member of the Purex family it also contains DirtLift Action, keeping dirt out and providing maximum cleaning power. Plus, it's safe for all types of washers, including high-efficiency machines.


I received the Fresh Spring Waters scent to try. When I started using it to clean our clothes, the house instantly filled up with the fresh aroma of the Crystals. Our clothes also held that fresh scent long after they were washed.


Needless to say, this product does not disappoint and has definitely become my favorite Purex detergent on the market. If you enjoy the added aroma that regular Purex Crystals provides, then I highly recommend giving this product a try. You can find Purex with Crystals at Target or any other major retailer that sells laundry cleaning products.


Right now, I would like to give two lucky Our Everyday Harvest readers a chance to try the new Purex with Crystals absolutely free! Two winners will receive a coupon good towards a FREE full-size bottle of Purex with Crystals (Maximum Value: $6.00).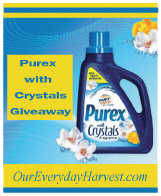 TO ENTER THIS GIVEAWAY, PLEASE FOLLOW THE RAFFLECOPTER PROMPTS, BELOW.
(I've also included additional entry options that can be done, daily, to increase your odds of winning!)
a Rafflecopter giveaway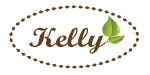 Although, I received a free product, courtesy of Purex, the views and opinions expressed here are purely those of my own. Please see my disclosure policy for further information.