Pin It
As a
Purex Insider
, I was given the opportunity to try out the new Soft Scrub 4-in-1 Toilet Care system.
As with several of my previous reviews, you may already know I'm already fan of many other Soft Scrub products and have nothing, but
good things
to say about them. Needless to say I was excited to give this product a go.
4-in-1 Toilet Care is Soft Scrub's newest product on the market and is the only toilet bowl rim hanger to:
Clean Toilets
Prevent Future Buildup
Fight Toilet Rings
Freshen for up to Four Weeks

As far as cleaning toilets, I am a bit of a neat freak, so I always like to keep my toilet nice and clean. I didn't find that this product did an amazing job at cleaning my toilet per say. Perhaps it was because my toilet was already clean prior to using it, so it may have been difficult to tell if it was doing an actual cleaning job.
On another note, I can definitely say that it seemed to do well at preventing additional build-up. I am in my second week of utilizing Soft Scrub's 4-in-1 Toilet Care and so far there hasn't been any residue or toilets rings left behind. Perhaps it really is cleaning my toilet!
As far as the freshening aspect, my initial reaction was that it smelled amazing. This product comes in two separate scents, Alpine Fresh and Sapphire Waters. I actually received the Alpine Fresh version, and felt that it was such a fitting fragrance and exactly how I would expect a fresh toilet to smell. The only issue that I noticed is that the scent, while quite powerful in the beginning, quickly started to lose that power after a few days. Now don't get me wrong, I can still smell the Alpine Fresh fragrance, but it is very faint. Some people may prefer a scent that is a little more subtle, but I actually enjoy the fresh aroma at a stronger level, especially in the bathroom.
Soft Scrub
also states that the plastic cage in the 4-in-1 Toilet Care system helps to keep the product in place to allow the water to activate it during each flush. I would like to also back up that claim. I was a little skeptical at first when looking at the plastic holder, but this feature has certainly exceeded my expectations, and so far it has stayed in place.
In a nutshell, 4-in-1 Toilet Care by Soft Scrub has some pros and cons. It is hard to say if it really cleaned my toilet and the fragrance could have been a bit more powerful. On the plus side, it definitely stayed in place on the rim of my toilet and helped to prevent future buildup or rings.
Right now, I am going to give two Our Everyday Harvest readers the chance to also try the NEW Soft Scrub 4-in-1 Toilet Care product (or any other Soft Scrub product of their choosing)!
Two winners will receive a coupon good towards any FREE Soft Scrub product of their choice
(Maximum Value $3.39).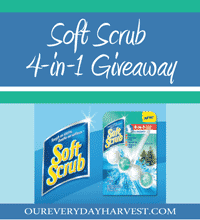 TO ENTER THIS GIVEAWAY, PLEASE FOLLOW THE RAFFLECOPTER PROMPTS, BELOW. (I've also included additional entry options that can be done, daily, to increase your odds of winning!)
This giveaway is open to US residents only. Winners will be notified via email.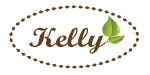 Although, I received a free product, courtesy of Soft Scrub, the views and opinions expressed here are purely those of my own. Please see my disclosure policy for further information.