Pin It
I always cherish dinnertime at my house. It's a moment when my entire family can sit together, talk about our day, and enjoy a nice home cooked meal together. Of course some days can be busier than others. When we have those days where so much is going on, it's nice to be able to whip up a quick meal that everyone will still enjoy.
That's why my family and I have always been a huge fan of Gorton's fish products. With Gorton's, you can actually serve up a quality meal that takes less than a half hour to make. In my house their grilled salmon fillets are a favorite. We recently had the opportunity to try the next generation of Gorton's fish; their Smart & Crunchy line of products. I can actually say that they have now become a second favorite to the salmon.
There are two products in the
Smart & Crunchy
family, fish sticks and breaded fish fillets. Both the sticks and fillets are 100% wild-caught Alaska Pollock, which is extremely important to me, because I try to stay away from farmed fish. They are breaded in a delicious panko coating, which makes them extra crispy. Since they aren't fried, they actually have 50 % less fat than regular breaded fillets or sticks.
Adults and children as young as toddlers can really get on board with the crispy and delicious taste of Gorton's Smart & Crunchy fish sticks.

Another beauty about serving fish for dinner is that it's a wonderful source of natural lean protein and contains important nutrients such as iron, zinc, and vitamins A, B, and D. Plus, my family can load up on those super essential omega-3 fatty acids. Gorton's Smarty & Crunchy sticks and fillets contain natural omega-3. They're also free of artificial flavors and MSG.
Here's Gorton's new Mascot, Smarty Crunchman, showing off the Smart & Crunchy products.
On a different night, I decided to whip up some delicious fish tacos using the Smart & Crunchy breaded fillets--another hit at our house and so very simple to prepare:
Having the option to create a delicious meal in under a half hour is extremely beneficial for me. If my dinner preparations are cut in half, it gives my family and I more time to enjoy each other's company, rather than spending all my time in the kitchen.
For more information about Gorton's Smart & Crunchy products, you may visit their
website
. While there, don't forget to print a
money saving coupon
for your next shopping trip. You can also visit Gorton's website for a slew of tasty Smart & Crunchy recipes, such as this
Caesar Salad Wrap
. Yummy!
To celebrate the introduction to Gorton's new Smart & Crunchy products, I'm going to give one Our Everyday Harvest reader a chance to win a very special Gorton's prize pack!
One lucky winner will receive a Gorton's prize pack that includes:
Two (2) Full-Value Gorton's Coupons (each valid for a FREE Gorton's product)
One (1) Adult-Size Gorton's Branded Apron
One (1) Child-Size Gorton's Branded Apron
One (1) Adorable Plush Toy of the New Smart & Crunchy Mascot, Smarty Crunchman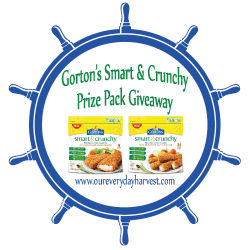 a Rafflecopter giveaway
Giveaway Terms and Conditions: Any giveaways that are hosted on OurEverydayHarvest.com are open, solely, to all United States residents above the age of 18. This promotion/giveaway is in no way sponsored, endorsed, administered by, or associated with Facebook, Google+, Twitter, Pinterest, or Picket Fence Blogs, therefore all said parties are released of any liability. This is a Gorton's Seafood sponsored giveaway. Although a giveaway may be represented by Our Everyday Harvest, I cannot be held liable or responsible for sponsors that do not follow through with prize fulfillment, or if a prize is lost or damaged in transit to the winner. Although, I will do my best to intervene if there is ever an issue in this aspect, it is the sponsor who is ultimately expected to fulfill all prize obligations to the winner.