Pin It
Happy weekend blogging friends! Welcome to the final week of the Harvest of Friends Weekend Blog Hop. I wanted to thank everyone for their continued participation throughout the week and months, but remember this is not a farewell to the blog hop fun on Our Everyday Harvest...
....Beginning next week, the brand new Everyday Friends Monthly Blog & Social Media Hop is going live! This hop will be replacing the Harvest of Friends Weekend Blog Hop.
I hope every will come back to join in on the month long linky party fun!! For more information about these changes and why I'm doing them, please visit my update post here.
I've went ahead and randomly chosen a blog from last week's blog hop participants to be featured at this week's hop:
If you a featured blog at the Harvest of Friends Weekend Blog Hop, feel free to grab the special "Featured Blog at the..." button, below, to share on your website as you please.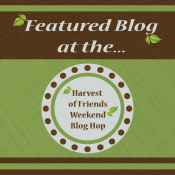 THIS WEEK'S FEATURED BLOG IS:
Mini Addictions
Please feel free to check out this week's wonderful featured blogger!!
JUST A FEW SIMPLE REQUESTS FOR THE BLOG HOP:
You can link up the main homepage of your (family-friendly) blog, and don't forget to check out some of the other amazing blogs that are joining the hop. NOTE: If you follow a blog via Facebook, please remember to try and do so from your personal page. For some reason Facebook doesn't count the likes if you follow from your business or blog page. For more information, please read my previous post about this.
You may grab the blog hop button, below, and share it on your blog as you please. This is not mandatory, but your support is always greatly appreciated. Sharing the button helps to let others know about the hop, which means more exposure for everyone. The more bloggers who join and link up, the merrier!
Have a

wonderful

weekend!